The problem with documenting life in a blog is that life happens so quickly and I seem to have so little free time to blog about it. There are lots of things I've been wanting to post lately, so here is a somewhat random hodgepodge for you. (The organization nut in me really wants these to all be separate posts, divided by topic and expounded upon, but the hurried SAHM in me just wants to get it all out there before the next page in this book of life turns.)
One of the things that excited us about the house we bought last spring was the hope that we would one day finish off the 1,700 square foot basement, in effect doubling our home's total square footage. And doing it ourselves meant we could do it exactly how we wanted it. (Note: We are not technically doing it "ourselves" – we've hired a contractor to do the work, but we designed the plans anyway.)
Well, "one day" has come and we are delighted to announce that work is scheduled to begin on Monday! This was not a space that we used up to this point (except for Ryan's computer/desk every once in a while), so we are super pumped to have new living areas to spread out in! The lumber for the framework was delivered this week, which you can see in these "before" photos.
Here is a rough (and already edited) sketch of our plans. Things have already changed a bit, so I won't bother to walk you through it, but in case you were interested in the basic layout we have planned, here you go.
We will have a den/family room, bedroom (conforming, with egress window), play room, office, kitchenette, 3/4 bathroom, and storage area. It's gonna be AWESOME! I plan to take pictures and document the progress as it unfolds, so stay tuned for more. We're told the framing should be done in a couple days and the whole she-bang within 6-8 weeks. It will be an interesting next couple of months, but exciting!!!
In other news...
Yesterday was St. Patty's Day and, although we are not even a wee bit (ha!) Irish, we
are
"Iowish!" Thanks to my sister Jackie for making this adorable shirt for Owen.
After weeks and weeks (maybe even months and months) of Grandma V trying to get O to say "grandma," he finally has. She's been dying to know what silly nickname her grandkids will refer to her as (and since O is her first, he gets to decide, I guess), but she may not be too thrilled with what he came up with (although I find it adorable). It is very clearly, undeniably, "gobgaw." Take it or leave it, Mom...I mean, Gobgaw.
Check out the sweet deal I got on this faux leather jacket yesterday at Younkers. Originally priced at $100, it was on sale for 40% off, plus I got an additional 20% off for the Goodwill sale they have going on now. And, when I was checking out, I remembered I had a gift card left over from like five years ago – which was only valued at $4.79, but hey, every little bit helps. So, after it was all said and done, I snagged it for $46.57. Not too shabby!
And I finally have the chunky, full-length leaner mirror that I have been coveting for some time now. My sister Rachel brought it home for me from IKEA in Minneapolis the other day and I am in love. Ryan is on the fence. But never mind that – I am in love. Not sure yet of it's exact placement in our room, but I plan to play around with a few options until we get it right.
Check it out – it's like the size of a door!
I was inspired by
this
room arrangement from the ever-stylish John and Sherry over at
Young House Love
.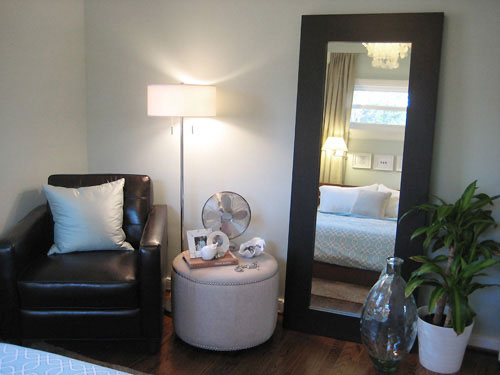 And now...I'm off on a girls' weekend with my two sisters and Mom to Chicago tomorrow morning. Hitting up IKEA (yay!) and cousin Tiffany's bachelorette party (woot!) Life moves so fast! Lots more to come next week, I'm sure...